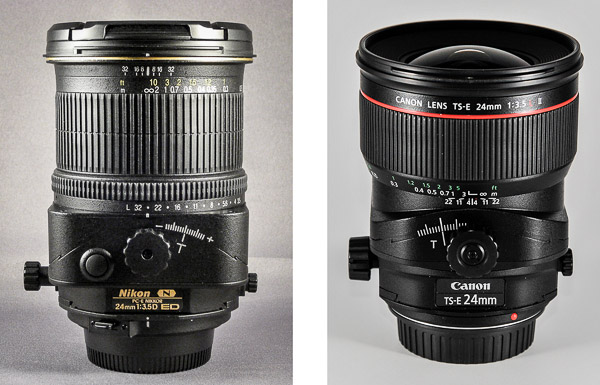 PC (perspective correction) lenses, also known as Shift or Tilt/Shift lenses, are used in architectural photography to mimic the capability of a large format bellows camera to render tall buildings standing straight instead of tilting backwards.
The PC lens accomplishes this by producing an image circle that is so large, the lens optics can be shifted relative to the camera sensor. This allows the lens to "see" the top of the building without the need to tilt the camera upwards–almost like a periscope. Since the camera and subject remain parallel, the building appears to be standing straight up.
These lenses are far from perfect, in part because even with a large image circle, image quality is highest at the center of the circle, and shifting the lens means moving away from the center. There are other issues as as well, but that's the short summary.
Despite what has been written, PC (aka TS) lenses are extremely simple to use if you take just a few minutes to see how they operate. Don't let those knobs frighten you; the lenses above have knobs for shifting but there are knobs for tilting as well. Tilting is used to control depth of field, but in practice 24mm lenses have so much depth of field it's rarely necessary to tilt–so half of what these lenses do is stuff you don't need to worry about!
I'm going to pause a moment to remember a trusted old friend. You would think the best PC lens would come from Nikon or Canon. But for years, that wasn't the case. By a considerable margin, the Olympus 24 shift was the champ. Olympus 24 shift lenses that have been converted to Nikon mount still turn up frequently. Unfortunately, they're not nearly as good on digital as they were on film.
PC Lenses:  My Story
I was a latecomer to serious digital photography. I'd owned digital point and shoot cameras, but having finally found a great PC lens for use with film cameras (the excellent Olympus 24 Shift) I decided to hold off buying a full frame digital SLR until somebody introduced a PC lens expressly designed for digital cameras.
Nikon was first, with their 24mm PC-E, several months before Canon's 24mm TS-II (there was an earlier 24mm TS type #1 but it was from the film era and not great.)
Reviews of the Nikon 24 PC-E were raves but anecdotal; people said "I don't have anything to compare it to, but it's great" or  "Considering what it costs I'm sure it's great". A few examples were posted but as with most things on the web there was really no way to critically judge the lens' performance, especially sharpness in the corners when fully shifted.
So I bought a 24 PC-E. And it turned out that when fully shifted, the Nikon 24 PC-E was, to be charitable, not great in the corners. I bought a second one. Same thing. It's true that many architectural photographs have nothing in the corners but sky but this isn't always the case. And even if there is nothing but sky in the upper corners of your picture, should you accept mediocre corner sharpness? Check the price tag on these lenses and my guess is you'll say no.
Then came Canon's 24mm TS-E II. This time, the anecdotal reviewers said "I'm sure the Canon lens is good but I don't see how it could be better than the Nikon." I figured this was probably true. The last thing I needed was to buy an another lens and another camera system but I figured I'd come this far, what the hell.
Now, I have no axe to grind here. And I frankly prefer the Nikon body with it's lower noise and higher dynamic range vs. the Canon 5D III. But Canon's 24 TS-E II is the better lens. Both lenses are extremely good when not shifted and both show a loss of quality when you shift. But you can shift the Canon further before the image quality deteriorates too much.
To be absolutely clear: both these lenses give up considerable amounts of quality when fully shifted–no miracles here. The more you shift, the more you lose. Dig deep enough into the reviews of these lenses and somewhere they will mention this crucial piece of information, if only in passing.
If at all possible, try to shift the lens less than maximum amount.
I thought about posting comparison shots but since my Nikon is 12 megapixels and my Canon is 22mp, I'd rather not get into an argument with some engineer about pixel density. In any event, you probably own one camera system or the other so this may not matter much to you. But for what it's worth, I've made a 24 comparison chart.
In summary, I would have been a lot happier (and richer) if the 24 PC-E was a better performer but I felt somewhat vindicated when Roger at Lens Rentals left it off his list of recommended lenses for the Nikon D800. There's a lesson here for brand fanatics. Lake Wobegon is the only place where everything is above average. Every brand has strengths and weaknesses.
In a perfect world we would have the Canon 17 TS-E and 24 TS-E II in Nikon mount and the Nikon 14-24 in Canon mount. And all lenses would be above average.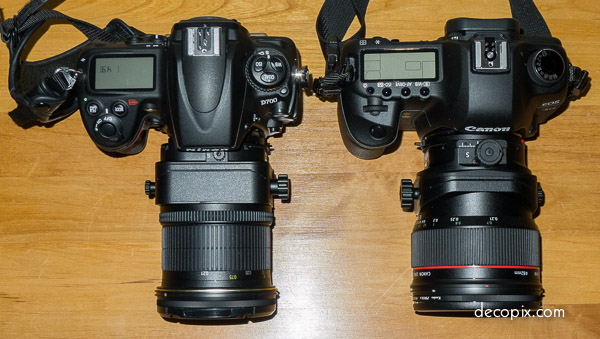 For more information:
[easyazon_infoblock align="center" identifier="B0013BEEUW" locale="US" tag="decopix-20″] [easyazon_infoblock align="center" identifier="B001TDL2O0″ locale="US" tag="decopix-20″]