I was photographing a movie theater and a passerby said "That's Art Deco.  Back in the 1930s everyone was crazy about Art Deco."
A world where Art Deco was the predominant style is an interesting idea, but that's all it is.
Here's the April 1937 edition of Interior Design and Decoration, a magazine for the trade. Pictured is the Paris apartment of actress Alice Cocea. It's a dazzling flat with a bear rug, glass block and a spiral staircase leading to a small roof garden.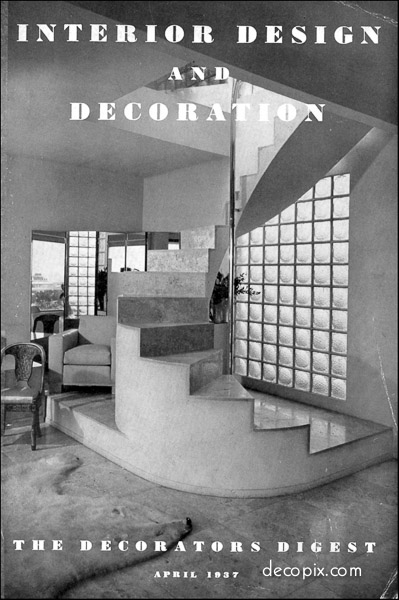 Was Mademoiselle Cocea's apartment a typical example of contemporary tastes? Not to the trade it seems. Most of the book shows old-fashioned furnishings in decidedly old-fashioned settings.
Outside people's homes, there was more freedom to be modern. These two facing pages from Interior Design and Decoration explain the situation better than I can.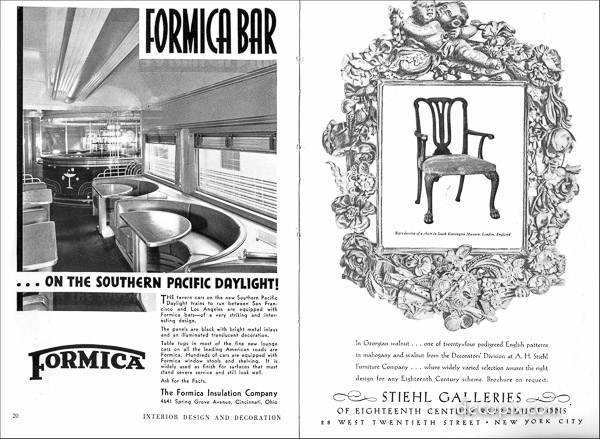 And here's a 1927 ad from Macy's with a similar ackward grouping.
The article on the Cocea residence concludes "To the inquiring interior designer this apartment by the Compagnie des Arts Francais and M. Fidler is demonstration enough that the real merit of Modern lies not so much in a consideration of historical styles as in function. And yet the the deduction must not be drawn that this apartment is predominatingly functional. One might say it is the opposite."  
I think this means the place looks functional but it really isn't. Whatever it means, the author is trying hard to justify this Modern example but it must have been a tough sell.