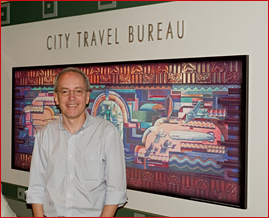 Short Bio
I got interested in architectural preservation while at school in Chicago.  I was captivated by the extraordinary, tragic story of Richard Nickel and his obsession with preserving the works of Louis Sullivan.
It's hard to imagine now, but in 1975, the only books on Art Deco architecture were about New York City.  Nothing wrong with that, but I thought I'd cast a larger net and photograph Art Deco throughout the world.  Thirty-seven years later, I can see this was a bigger task than I realized.
Long Bio 
Randy Juster graduated from Chicago's Columbia College with a B.A. in photography.  Over the years, people have confused Columbia College with Columbia University which, although not correct, is fine with him.  His photographs have appeared in over 30 books, magazines, the New York Times, Los Angeles Times, National Geographic and Forbes.  His work has been exhibited at the Minnesota Museum of Art, Center for the Fine Arts in Miami, Joslyn Art Museum in Omaha, Philbrook Museum of Art in Tulsa, National Gallery of Victoria in Melbourne and in the permanent collection of the Smithsonian.
While still a student, Randy decided he wanted to photograph what interested him. That pretty much ruled out taking pictures for a living.  Instead, he embarked on a career in the photo industry, first working for photo accessories supplier Spiratone, which was fun and then for Beseler Photo Marketing Corporation.
In a turn of exceptional good fortune, Randy was hired as a Product Manager and color printing instructor by E. Leitz, Inc., the USA distributor of Leica cameras.  Having access to the cameras and lenses was great and so too was the travel which made it possible to take a number of the photos shown on this site.  During this period, Randy also taught photography at Parsons School of Design in Manhattan.
In the mid-1980s, Leitz (Leica) went through considerable upheaval, caused in part by shortages of products people wanted and surpluses of what they didn't.  Ownership and management changes took place but it seemed the Leica was headed the way of the Contax.
A difficult decision, made easier by relocation to California, followed.  Randy was hired by Ilford Photo Corporation as a Photographic Engineer, working with photo labs and doing photo workshops.  He later served as Ilford USA's Desktop Inkjet Specialist, an incredibly fun job.
Shortly after Ilford Photo's 125th anniversary and just shy of Randy's 20th with the company, Ilford entered into "receivership" with most, and ultimately all of Ilford USA's employees sent packing (except Mike, in case he's reading this). Ilford UK continues to make a variety of black and white photo products, though.
In the end, Leica found new owners with deep pockets and survived while Ilford USA went by the wayside.  By then, the photo industry had essentially become a segment of the consumer electronics business.  Randy got a "real" job in a field completely unrelated to anything he had done previously.  And for now, let's leave it at that.