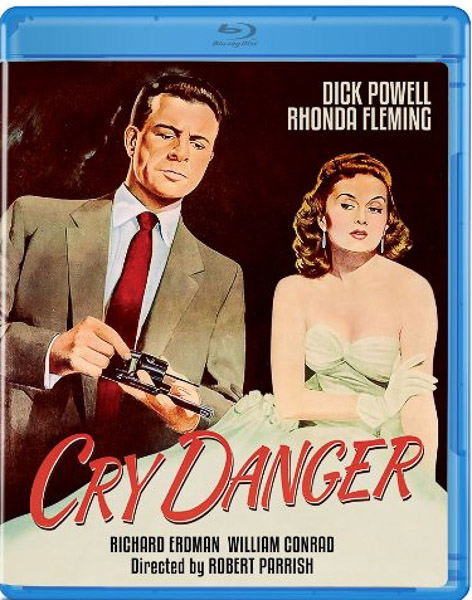 Cry Danger (1950), a terrific little crime story, is headed for DVD this spring. If you haven't seen it, head over to Netflix or Amazon where it can be streamed. But if you like it as much as I do, the Blu-ray release will be a special occasion. The story is simple enough; Rocky Mulloy (Dick Powell) is serving life for stealing $100,000. A wonderful character, Delong, played by Richard Erdman provides Rocky with a phony alibi. All he wants is a share of the dough. But as Rocky explains, "You not only picked the wrong horse, you didn't even get the right track."
The bad news: Rocky doesn't have the money. Ah, but he knows who does. And so begins a fast moving tale, as Rocky sets things straight, settling scores along the way. For fans of old L.A. there are great scenes of the Bunker Hill neighborhood, long vanished. For film noir seekers, there's a suitably bittersweet ending. Even a little Art Deco. The players are all great but the real star is the snappy dialog. Powell had already played Philip Marlowe so he knew how to handle these things. Highly recommended.
For more on Los Angeles' lost Bunker Hill neighborhood, see Jim Dawsons's Los Angeles's Bunker Hill: Pulp Fiction's Mean Streets and Film Noir's Ground Zero. Yup, that's a scene from Cry Danger on the cover.