I came across this delightful streamlined thermostat made by Perfex and wondered who was behind the design. The clock face reminded me of Gilbert Rhode; the rest of the design more like Henry Dreyfuss.
Wrong on both counts. But this led to an interesting discovery. The design for this "Mercury Moderne" item came from the pen of Brooks Stevens, a hugely influential designer who designed cars, trucks, boats, busses, trains, luggage, offices, the Miller High Life beer logo, 50s patterns with boomerangs…I could go on.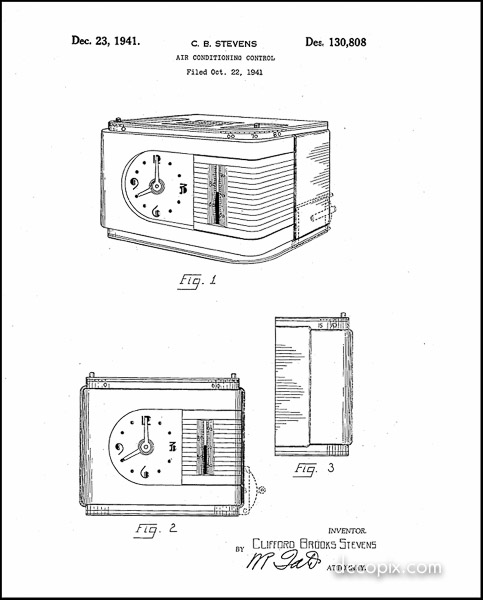 Still doesn't ring a bell? Stevens also designed the Oscar Meyer Wienermobile, and he's credited for introducing the phrase "planned obsolescence" although for him it had a positive, forward looking connotation. (There's even a Wikipedia entry for planned obsolescence.)
Brooks Stevens' accomplishments are too extensive for this post but by all means, check out his biography.
[easyazon_image align="center" height="160″ identifier="0262012073″ locale="US" src="http://www.decopix.com/wp-content/uploads/2015/10/51KF2C2Z6AL.SL160.jpg" tag="decopix-20″ width="121″]