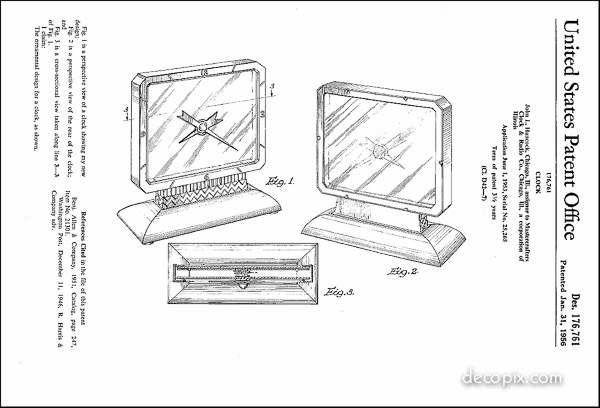 John L. Hancock's design for Chicago's Mastercrafter's Company is interesting in many ways. From an aesthetic standpoint it seems firmly rooted in the 1930s, yet it didn't exist until the 1950s. As a work of engineering, it's quite unusual in that the hands appear unconnected to any mechanism, making it a true mystery clock.
The "mystery" in most mystery clocks turned out to be a rotating glass disk. So the Fantasy, being rectangular, was an enigma. Even reading the explanation–a piece of glass shuffles back and forth creating the needed drive motion–it still seems mysterious.
Another thing to puzzle is why Mastercrafter's didn't notice these clocks weren't very good at telling time. Long story short, there is a gear that wears out quickly, nobody fixes 'em and I have never seen one that's less than 5 minutes slow a day. Interestingly, they are almost silent and I can't remember seeing one that didn't run at all.
In short, a great looking, "1930s" item, made in the 1950s, that generates lots of interest. Just don't use it as clock.