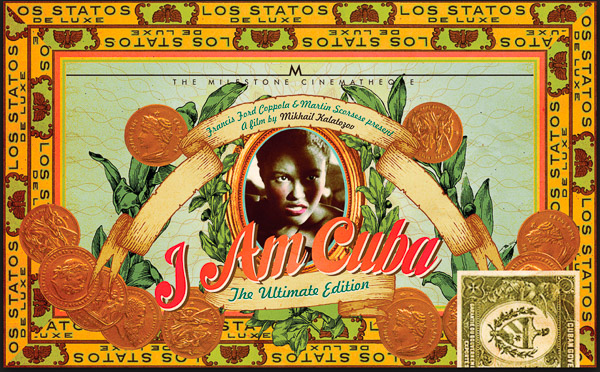 I get a lot of email about Cuba. Mostly about old cars.
The old cars are still there but they don't rule the roads as they once did. It can be difficult to photograph a group of classics without getting newer cars in the picture. This got me thinking about I Am Cuba, the extraordinary 1964 film about the Cuban revolution. In it, you'll see the old cars when they were young, along with many familiar and (back then) freshly painted sites around Havana.
I Am Cuba is unusual in that people see completely different things in it. Some see the vibrance of Cuban culture and the country's beauty, others, heavy-handed propaganda. It's also possible to remain neutral; entranced by the film's beauty and the remarkable technical skill of the filmmakers.
After this many years, discussing the politics of I Am Cuba is like arguing whether ending the Vietnam war was a good idea or not. You can watch I Am Cuba with the sound off and it's still amazing. Parts are available on YouTube, to give you a preview.
For the the technically inclined, a lot of the film was shot with very wide-angle lenses. This resulted in an in-your-face presentation that alternates between intimate and panoramic. Then, there are the long, unbroken shots where the camera darts in and out, wanders through crowds and so on. Hard to describe and very skillfully done. Lastly (something near and dear to me) many scenes were shot on infrared film. Not only is this a technical triumph; the results are spectacular images of the Cuban landscape–endless seas of white palm trees, for example.
For years, the movie was in limbo. Rediscovered in 1992, a couple guys you may have heard of, Francis Ford Coppola and Martin Scorsese were impressed enough by the film to present a restored version at the New York Film Forum in 1995. The rest is history.
I Am Cuba is now available in an "Ultimate Edition" which is three DVDs plus a booklet in a miniature cigar box. Disc #1 is the film, disc #2 is The Siberian Mammoth, a documentary about the Russian-Cuban partnership that made I Am Cuba, and disc #3 is a documentary on director Mikhail Kalatozov. There are also stills and a lengthy interview with Martin Scorsese.
Is I Am Cuba a good introduction to Cuba today? I don't think so. I don't mean to trivialize the politics but let's just say they are not unexpected for a Soviet film of the era. What cannot be argued is that as a showcase of the island's beauty and a visual treat it's hard to beat.
[easyazon_infoblock align="center" identifier="B000UJ48Q8″ locale="US" tag="decopix-20″]