You probably know Havana has lots of Art Deco, but the sheer quantity may surprise you. Think of South Beach in Miami, unrestored, stretching for miles and you get the idea. I'll divide things up over several posts and add some tips for Americans who want to go.  Note also that Havana is a UNESCO World Heritage Site, home to many architectural styles.
Havana is divided into 15 districts but for our purposes you can get by with four or five.
Habana Vieja (Old Havana) – You may think I'm exaggerating but it's difficult to walk a block in Old Havana and not see an Art Deco building. But even within this abundance, there are some standouts.
If you are interested in Art Deco and plan on staying in a hotel, Habana Vieja is your best bet since you can walk to many sites, by no means limited to Art Deco. There are private homes (Casa Particular) you can stay in, in Old Havana but the majority of these are in the districts further west.
Although it has seen better days, the apartment building next door to the Bacardi, at the corner of Monserrate and San Juan De Dios is seriously Art Deco.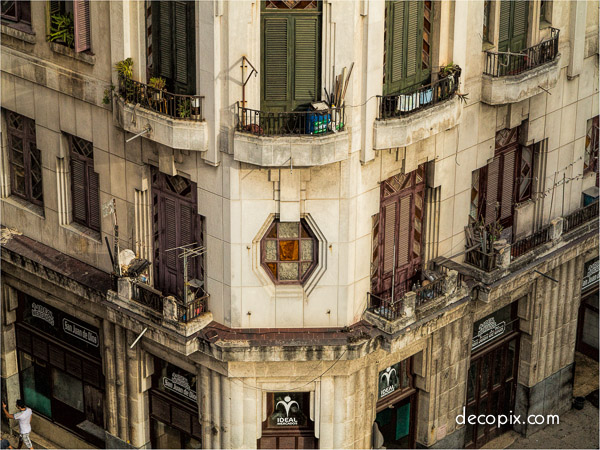 Centro Habana – From Habana Vieja, Havana moves westward. Our next stop, Centro, is a half-way station between densely packed, commercial/residential Havana and the suburbs.  Centro is a little scruffy and it lacks Deco monuments like the Bacardi building.  But there are Art Deco apartments on nearly every street.  Centro looks rough but I've never had a bad experience there or anywhere in Havana.  If you get lost or want to step back for a better view, the Malecon (waterfront) is never more than a few blocks to the north.
West of Centro, things spread out to the west and south.  You'll see fewer tourists here and the distances can make for a long walk.
Vedado and beyond – To the west of Centro lies Vedado, what I call the suburbs. From this point on, things spread out so if you love to walk, great.  At some point in our itinerary, you'll probably decide a taxi is in order.  The Malecon, which runs along the sea wall, can be used as an express route to get a jump start westward, and that will take you behind the Hotel Nacional (worth seeing but not particularly Art Deco).
Postscript: There are several gorgeous coffee table books on Art Deco Havana. I've been asked if there is an architecture guidebook. Yes–I heartily recommend the little-known Havana Guide by Eduardo Luis Rodriguez. It has not been revised since 2000 but in a place like Havana, not much has changed. The Havana Guide has both photos (B&W) and maps to most of the important structures. It also covers Havana's fabulous 50's heritage which is remarkable. Note that this guide is limited strictly to architecture and won't replace a more general guide.
In the next installment, I'll cover some great Deco spots in Vedado and Miramar. Then, it's on to Almendares and Kohly, whose Deco treasures are probably less well known. That should take 2 more posts. Better make that 3….  For a map of my favorite Havana Art Deco spots, click here.
Equipment used:  Canon G1X  for Edificio Albear, Teatro Fausto, Blue apartments in Centro, Hotel Nacional & the Rambler. Canon 5D mk III with 24mm IS lens for Cine-Teatro America & Edificio Rodriquez Vazquez. Olympus OM-4T w/24mm Shift lens for La Moderna Poesia (first), Canon 5D mk III w/24mm TS-II lens for La Moderna Poesia (second) & Tabacalera Insurance Co. Bicardi Bldg shot with Fuji 69W and Velvia 50 film.