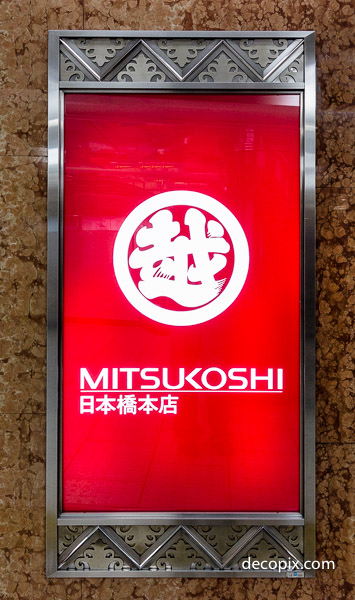 There was a time when department stores were like movie palaces. They offered a feast for the eyes and every convenience from lounges to lunchrooms, restaurants to roof gardens, all accompanied by exemplary, attentive service.
These things still hold sway with the Japanese, who place high value on tradition, quality and service. And, speaking of tradition, two of Japan's merchandising giants continue to operate their original Art Deco locations.
Founded in 1886, Isetan has become a merchandising giant throughout Asia. The flagship store in Shinjuku features spectacular Art Deco metalwork on the exterior. It's a lovely store inside, but as far as I know, all the inside decoration is of recent vintage.
And then there is Mitsukoshi. In business since 1673 (that's not a typo) Mitsukoshi has stores throughout the world (even one at Epcot Center.) The main Mitsukoshi location at Nihonbashi burned during the Kanto earthquake in 1923 and was rebuilt and reopened in 1925.
For this new incarnation of the store, Mitsukoshi staff went to Paris to interview various artists before choosing Rene Prou. Additional metalwork came from [easyazon_link identifier="B010717OSW" locale="US" tag="decopix-20″]Raymond Subes[/easyazon_link].
The exterior of  the Mitsubishi Nihonbashi store is dramatic (obviously) but not overtly Art Deco. However, the inside is, well, see for yourself.
I should mention that photography is frowned on in these stores so I tried to be as quick and discrete as possible.
As if the interior wasn't enough, in 1932, Mitsukoshi built an Art Deco passageway connecting to the Mitsukoshimae subway stop. Shoppers could step off the train and into an Art Deco environment even before they reached the store.
The passageway still exists and is rich in Art Deco details. Not everything looks original, however. The trim at the top of the columns appears to be the real thing.
More Tokyo Deco in future posts.
[easyazon_image align="center" height="160″ identifier="B00FKYUA2Y" locale="US" src="http://www.decopix.com/wp-content/uploads/2016/02/41AvQPS3dlL.SL160.jpg" tag="decopix-20″ width="149″]