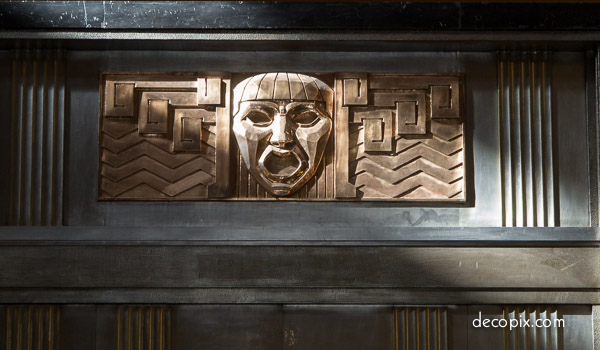 I've known Mexico City's Art Deco for years, but it had been poorly documented and having seen so little, I figured there probably wasn't much left, especially after the massive earthquake of 1985. In the fall of 2012, I finally decided to go, only to discover Mexico City had two seasons, wet and dry, and the rain was just starting.
The following year, things fell into place. The 2013 World Congress on Art Deco in Havana coincided with Mexico City's dry season. Americans usually get to Cuba by way of Mexico so a stop in Mexico City, while not the most direct route, was an easy call. I spent 9 days in Havana and 4 days in Mexico City. Wait 'till you see what I found in just four days….
Art Deco in Alameda Central
Just west of Mexico City's historic center lies Alameda Central.  The obvious place to start your Art Deco tour of Alameda is the Palacio des Belles Artes. Actually it's not that obvious since the exterior predates the Deco era. Work on the Palacio began in 1905 but was interrupted by difficulties caused by the area's mushy soil, and by the Mexican Revolution. When the dust settled some 25 years later, Art Deco was in vogue, so step inside and prepare to be amazed….
Amongst the enormous works, you'll see something that's missing from tours of Rockefeller Center in New York: Diego Rivera's Man At The Crossroads. The original work, commissioned by the Rockefeller family turned out to be a depiction of the evils of capitalism alongside the virtues of socialism. This didn't sit well with John D. Rockefeller who ordered the mural's destruction. Equally unhappy was Diego Rivera, who returned to Mexico and painted a duplicate.
Non-flash photography is allowed at the Palacio des Belles Artes but you may be asked to buy a permit, which cost me around $2.30. If you get tired of the Palacio (I went 3 times in 2 days) there's more Art Deco just outside. Directly across the street is a Sears store with Deco doors and an Art Deco bank just to the left of Sears.
Speaking of Art Deco banks, if you exit the Palacio and turn to the left, you'll see the Banco de Mexico.
A non-Deco diversion, here.  Adjacent to the Banco de Mexico is the Palacio de Correos de Mexico. Palace of Letters may sound exaggerated…that is, until you look inside.
Back to Art Deco. Across the street from Banco de Mexico is a very handsome streamlined office building. I'm not sure who owns it; some signage said E.F. Hutton which of course is no more.
Just to the east of "E.F. Hutton" lies another surprise, the Casa de las Azulejos–House of Tiles, now a Sandborn's restaurant. Like the Palacio, there's no sign of Art Deco outside but inside, the beautiful historic interior is home to Orozco's "Omnisciencia". Wow.
 Pretty good for just over a square block. But there's more.
Walk back to the Palacio des Belles Artes and continue westward on Calle Madero. The park will be on your right. Continue three blocks and just before you reach the Hilton hotel (on your left) cross the street and head down Revillagigedo Street. At the corner you'll come to the Museo de Arte Popular, housed in an Art Deco, former brewery. This is a great place to see Mexican popular culture. Their Day of the Dead exhibits and their Oaxacan animals are spectacular. Photos are allowed here, too.
Now, we'll walk back to where we started, only this time, we'll head back (east) on Independencia. The next corner is Luis Moya, where you'll see the Orfeon Theater.
You can either turn on Luis Moya and head back to the park and Belles Artes or turn right (south) and walk two blocks to Victoria Street, where you'll find the phone company at #59.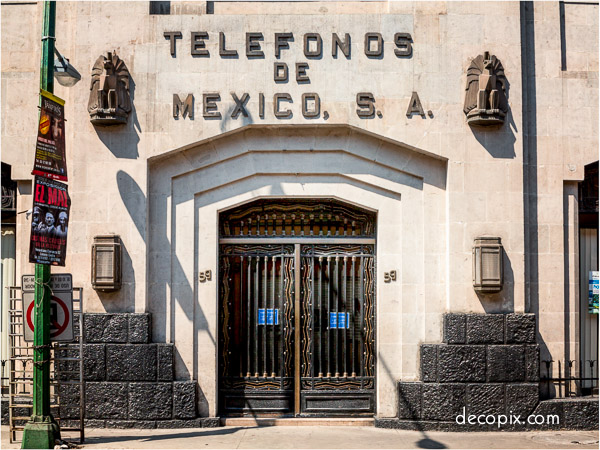 I didn't get the exact address but the YWCA is also nearby.
In the next installment, we'll head west to the Monumento a la Revolucion which, as you've probably guessed is in the Art Deco style. (All photos in this post taken with a Canon G1X).