At the time of his death in 1963, Kem Weber was largely forgotten. Using letters Kem wrote to his wife Erika, and the Kem Weber archive at U.C. Santa Barbara, author Christopher Long has done a terrific job detailing Weber's accomplishments and his unwavering advocacy for modern, pragmatic design.
Any telling of Kem Weber's story has to include the (many) times his ideas were rejected. For admirers of modern design, seeing things Weber created that did not reach production or were made in exceedingly small quantities is disappointing to say the least.
Ironically, even furnishings Weber made for customers with limited budgets are now to be found, if at all, at places like Sotheby's.
Born in Berlin in 1889 to a financially well-off family, Kem Weber did poorly in school, preferring to work with his hands. Reluctantly, his parents arranged an apprenticeship with a cabinet maker. Weber excelled, becoming an expert and precise woodworker.
Weber then set his sights on becoming a designer. He enrolled in the School of the Royal Arts and Crafts Museum where he was mentored by Bruno Paul.
Bruno Paul was noted for his ability to design both Typen-Mobel furniture (pieces that could be mass produced cheaply) as well as luxurious custom pieces. Kem Weber would master those skills and later put them to use when it became necessary to balance elegance with practicality.
In 1914, Weber, now trained as an architect, got the opportunity to supervise construction of the German exhibits at the Panama-Pacific Exposition in San Francisco. He planned to be away for for a year but the arrival of World War I made returning home impossible.
Being stranded in San Francisco could not have been all bad, but things were far from easy. While exempted from military service, Weber dealt with sparse work and anti-German sentiment. He did start a design business, but at various times he was forced to work on a chicken farm, in forestry and painting billboards.
By the war's end, Weber had fallen in love with California. At a friend's suggestion he moved to Santa Barbara, launching a design business. While there was design work, it turned out to be for people with traditional tastes; wealthy easterners spending the winter in California.
Barker Brothers, the big Los Angeles furniture store, took notice of Weber. In Barker Brothers, Weber saw an opportunity to promote his ideas for modern designs. Unfortunately, what Barker Brothers saw in Weber was his ability to produce high quality traditional furniture!
A visit to the Paris exposition of 1925 convinced Clarence Barker that modern design would soon play a role in American life. He persuaded Barker Brothers' management to devote a section of it's new building to Modes and Manners, a store within a store, devoted to the modern with pieces chosen by Weber.
Modes and Manners was a success and when Barker Brothers opened a Hollywood store it featured Modes and Manners as well.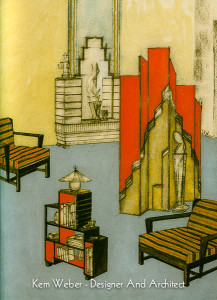 Weber left Barker Brothers in 1927. He participated in the International Exposition of Art in Industry held by Macy's in 1928 and some successes followed before the crash in 1929. Weber made a number of trips to New York and Michigan (the furniture manufacturing capitol) to promote his work. He had some success.
No stranger to hard times, he had an idea for a line of easy to manufacture furniture that could be shipped flat for user assembly. If this sounds familiar, it shows how far ahead he was. But his Bentlock concept was a flop.
Perhaps it was all the effort he put into Bentlock, but Weber did not abandon the concept entirely. With some refinements, he ultimately arrived at his famous Airline chair and his extraordinary tubular chrome furniture for Lloyd Manufacturing.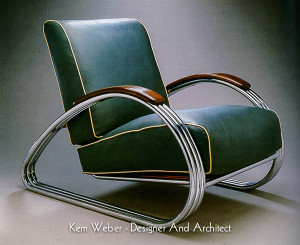 In 1936, Weber's fortunes picked up with a commission to build his streamlined masterpiece, the Bixby House in Kansas City. Another, less elaborate house for Archibald Wedemeyer followed. But just a year later, in 1937 the infamous "double dip" occurred, dashing hopes for economic recovery, yet again.
In 1939 Kem Weber got what would be his biggest commission, new studios for Walt Disney. Weber oversaw every detail (as did Walt Disney, apparently.) While the building exteriors were factory-like, the interiors and furnishings were among his great achievements.
Again there were a few good years. This time the recovery from the Depression would be permanent, but only to be replaced by World War II. Weber saw an opportunity to help ease the housing shortage with his Kem Weber System plywood houses but this concept fell victim to bureaucracy and was never realized.
During 1942-43 Weber designed updated interiors for Chicago's Bismark Hotel (now Hotel Allegro.) There were other projects–homes, storefronts and the design of the Union 76 logo, but at that point in his career he wanted time to relax and enjoy sailing his boat off the Santa Barbara coast, seemingly content to pass the torch to a new generation of modernists.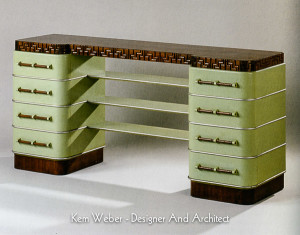 Note: This summary barely scratches the surface. The book is highly recommended to anyone interested in 20th century design and the people and events that determined its course.
  And lastly, since this will be of interest to Decopix visitors, the book confirms, yet again, that Lawson Time did not produce any of Kem Weber's clock designs.