Given Shanghai's vast Art Deco heritage, a meeting was long overdue. The amount of Art Deco to see in the world's most populous city made it impossible to take in everything but we sure tried! Fortunately, the meeting was very well organized and our hosts Patrick Cranley and Tina Kanagaratnam assembled a great support staff. Many thanks to everybody who worked on this outstanding event!
The world's largest port, Shanghai has long been a place where East met West. This, combined with a period of great prosperity early in the 20th century followed by war, occupation and ultimately, communist government combined to make a unique Chinese-European culture with many buildings surviving long enough to become fashionable once again.
Day One
I arrived in Shanghai on Halloween. Do the Chinese celebrate Halloween? Yup. See video.
I stayed in Pudong, the new part of Shanghai (Patrick says residents of historic Shanghai call it Pu Jersey–ouch!  Anyway, despite the excellent Metro, staying in Pudong turned out to be kind of a hassle, what with the events held in the "real" Shanghai across the river (I was aware of this, but had a deal for a free hotel room in Pudong with frequent flyer points and free is hard to beat.)
Day one's events included registration, optional tours of Jewish Shanghai and old Shanghai Government Complex, a partially completed, partially abandoned, partially used government zone north of today's city center. I especially wanted to see the Aviation Building, and we did but it was almost dark which meant another trip (and another post.) We did see some impressive art and architecture, including a swim stadium very much in current use.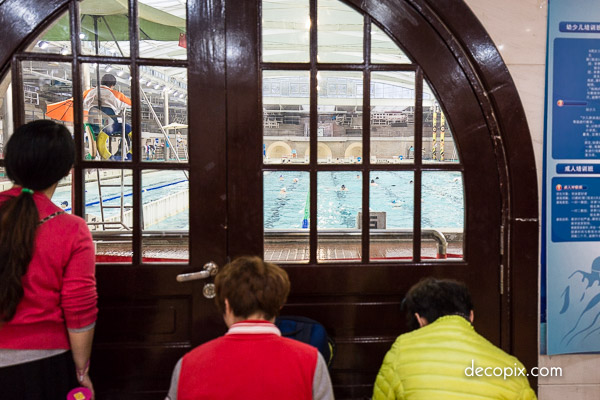 Next, we kicked off the Congress in a big way. The Pei Villa was one of my four must-sees in Shanghai (Peace Hotel, Grosvenor House, French Club being the others.) I'd been to the Pei house years ago during a restoration, and even under construction it was obviously spectacular and a unique Chinese take on Art Deco.
The well-to-do Pei family (architect I.M. Pei is a member) built their mansion in 1934 and today it is not only restored; you can stay there. Alas, this was a nighttime event, making this a stop for another day.
I'm going to mix two visits together here, so you can get a better idea of what the house looks like.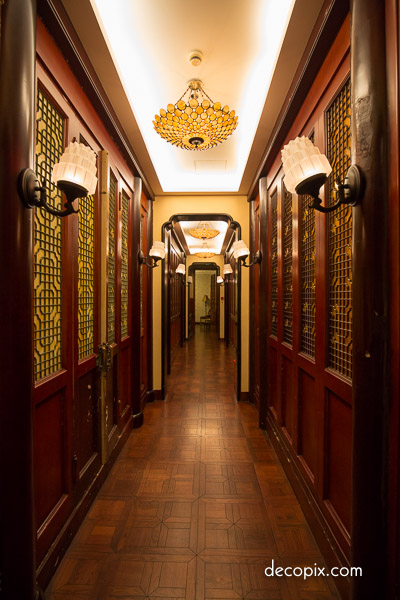 The Pei house staff proudly point out the house has the oldest Otis elevator in China. But you'll probably want to take the stairs: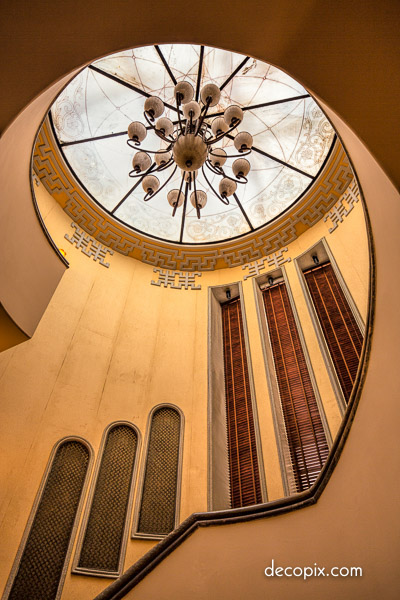 Pretty interesting for the first day(!) And officially, the Congress starts tomorrow (when I will make yet another detour and spend most of the day behind the Bund.
Copyright © 2015 Randy Juster.  All Rights Reserved.