Shanghai is huge. But most of the Art Deco is concentrated in one of three locations, (a) on or near the Bund, (b) on or near Nanjing Lu or (c) in the French Concession. In fact, a determined explorer could walk all three areas in the same day but it wouldn't be fun and besides, there would be too much to take in. We had five days and couldn't see it all.
Unfortunately, the China Aviation Association was not anywhere near the other Art Deco stuff, and for a specific reason. Long story short, in 1929, the Chinese government broke ground on what was to be a new city center. A thoroughly planned complex of government buildings plus a stadium, library, museum, hospital, traffic routing system and rail connections.
Work progressed until 1937 when the Japanese invaded. Things came to a stop, never to fully resume. Well, not quite true; restoration of what was completed is taking place right now.
If memory serves, there is or was a little airport in England with wings on the sides, but no fuselage or tail fins. The China Aviation Association headquarters was an entire plane ready for take off. We made the pilgrimage by bus to its remote location but got little for our trouble. It was dark when we arrived.
With so many events scheduled for the Art Deco Congress, there were no plans to return. I had to see the place, in daylight.
It was a dark and cloudy day. The weather was a problem and so too was finding the place. Shanghai has an excellent Metro, but like anywhere else, when you get far enough from downtown, the stops get further apart. The nearest Metro stop did not put me within sight or walking distance of the Aviation Association building–a possibility that had not occurred to me when making my (brilliant) plan.
Lost and in the rain, the only thing that looked familiar was a shopping mall. A good place to find someone who spoke English and get directions.
Yes and no.
Yes, the folks at the mall spoke some English. But being in their twenties, there was little chance they knew about the old city center abandoned since 1937. Explaining that I was looking for a building shaped like an airplane just made things worse.
Then, an idea. On my phone, I Googled an article with a photo (actually Yahoo'd because Google seems blocked in Shanghai.)  Now my new friends could see where the place was and they said "Its too far to walk, just take a cab."
Not so fast. With any cab ride in Shanghai, if you don't have the address written in Chinese, you're not going there. Even having the address is not a guarantee (I get a kick out of those tourist articles that advise settling on the fare before getting in a cab. How do you know how much it's supposed to cost, and can you negotiate in Chinese?)
Back to our story. Address in hand, I was at last headed to the Aviation building. I could sense my fortunes changing.
The cab left dropped me off in the general vicinity but I still had to find the place. To add insult to injury, I found a billboard showing the building. I pointed to the picture, hoping for directions but folks just laughed as if to say "Yeah, it's shaped like an airplane. Funny, no?"
At last I found it. The rain held off just long enough. And the government officials who currently occupy the building did not chase me away, although they were watching closely.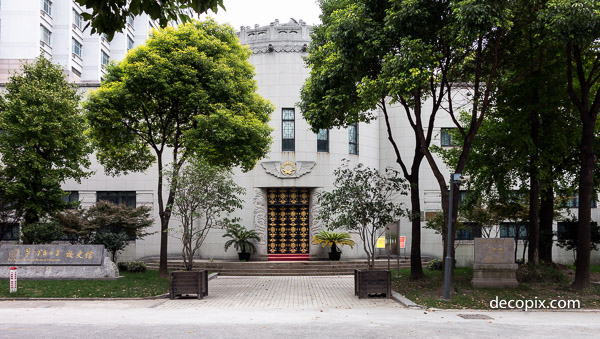 Dinner was at the French Club, now part of the Okura Garden Hotel. The club was one of several venues where, in the glory days, Shanghai's expats wined, dined and danced the night away. As the name suggests, the decor is very French and amazingly, the original ballroom still exists with it's astonishing ceiling fixture–my vote for best Art Deco stained glass in the world.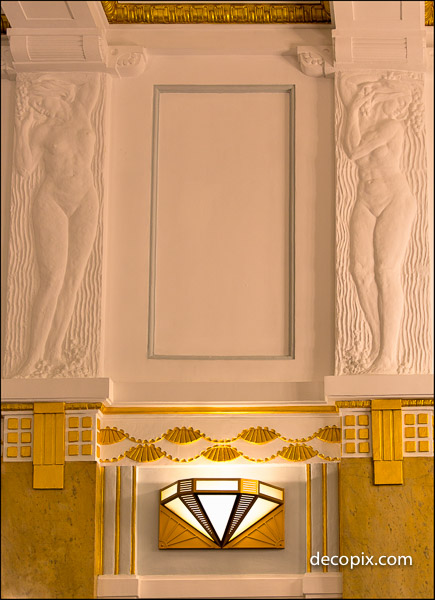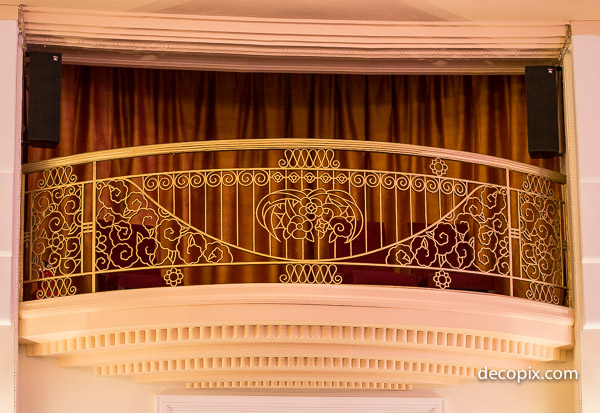 Next:  Day Four, the French Concession.
Copyright © 2015 Randy Juster.  All Rights Reserved.