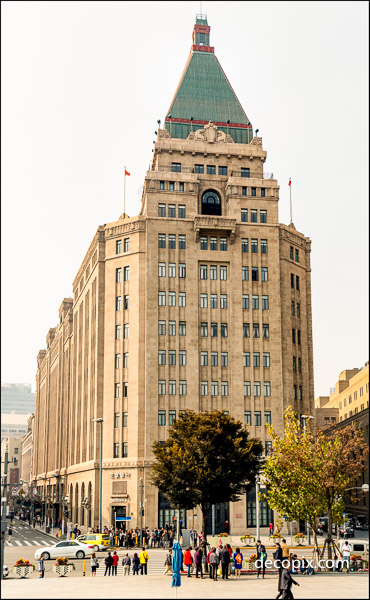 Shanghai is too rich in Art Deco to to have an obvious #1 Art Deco building. But if not the Peace Hotel, then what?
Some background:  In the 1930s, Victor Sassoon was Shanghai's most successful businessman. Sassoon had a fondness for architects Palmer & Turner (still very much in business, BTW) and P&T were experts in the Art Deco style.
Sassoon House opened in 1932 as a multi-use building. Shops at the bottom, offices and a hotel in the middle, and the icing on the cake, Sassoon's penthouse. In 1956, the building became the Peace Hotel with the majority of its space devoted to guest rooms. These days it's restored. and managed by Fairmont Hotels.
For our final evening at Shanghai Art Deco Congress, we went out in in style, with a dinner of period dishes.
I visited the hotel before and hoped this time I'd finally see the outdoor roof patio, which I did. But I was so captivated by the rest of the the hotel that by the time I got to the roof it was dark. Since the number of photos will probably make this post load slowly, I'll add another with my trip to to the roof.