I've received a lot of email asking what to expect at the upcoming Shanghai World Congress on Art Deco. In this post and the next, I'll cover what I've seen-both Art Deco and some other things that should give you an idea of the place.
I first went to China in 1997. I had little time to prepare so against my better judgement, I booked a tour.
Hard to believe, but in 1997, a lot of China tours skipped Shanghai! After all, it was an industrial/commercial city whose golden era was in the 19th and early 20th centuries. Practically like yesterday in China's long history. But with some searching, I found a tour that included a day and a half in Shanghai.
That day and a half was fruitful. I got to see the interior of the Peace Hotel which would soon close for years of restoration. But Art Deco buildings were not part of our Shanghai visit. In fact, we pulled in late and didn't even get dinner. I remember ducking into the Park Hotel for a moment, losing sight of my tour group. I wasn't sure if I wanted to get lost in Shanghai, but we were soon reunited and back on the bus, visiting more pottery shops and sellers of battery powered pandas with blinking eyes.
In 2007, I returned to Shanghai and spent a week. Having already taken the China-in-a-week tour, it didn't seem totally unreasonable to confine myself to Shanghai.
Shanghai trip #2 had it's share of unplanned events, including being taken in by the infamous (and apparently famous) tea ceremony scam. But tales of my foolishness won't add much to this post so let's move on.
First of all, Shanghai is huge and sprawling. I recall a plan to somehow link Shanghai and Miami Beach as Art Deco sister cities but what these two places have in common is a mystery to me. If I were to make a comparison, I'd say Shanghai's a bit like London, so don't expect tropical breezes or rows of small, brightly colored hotels.
Dispersed throughout the city are pockets of Art Deco. The good news is, Shanghai has a lot of really striking Art Deco. The bad news is that a lot of Shanghai's Deco heritage is in serious disrepair. Oh–and walls. Lots of places are behind walls, behind gates, behind trees (see photos.)
Why isn't Shanghai's Art Deco appreciated more? The economics of Shanghai real estate–too many people and not enough space. And because Art Deco was never intrinsic to China. There are fascinating examples of uniquely Chinese takes on the style. Nonetheless, Art Deco came from outside China and I suspect many Chinese are perfectly happy to see it go.
Lets start along the waterfront, known as the Bund. On the Bund's promenade, with a 180 degree swing you get a visual summary of Shanghai's recent history. To one side are the 19th-20th century buildings that made Shanghai China's version of Wall Street and to the other, across the Huangpu River is Pudong which strikes me as China's real-life tribute to Blade Runner.
On the Bund, of particular interest on is the Peace Hotel, built as Sassoon House for Sir Victor Sassoon, by architects Palmer & Turner (1932.) The hotel has been restored and is now operated by Fairmont Hotels. Most of the Peace Hotel photos in this post were taken prior to the restoration.
Next door to the Peace Hotel is the stately Bank of China which was to have been taller than Sassoon's place but Victor Sassoon objected and apparently had quite a bit of pull as the bank was modified to be a bit shorter.
There are other Art Deco buildings not directly on the Bund but within an easy walk.
Not much further is the Metropole Hotel, also commissioned by Victor Sassoon. The Lalique lamps have obvious similarities to the Peace Hotel.
A bit further inland is the Shanghai Power Company (Architect, Elliot Hazzard, 1929).
If memory serves, this Bank of China branch is just off of Nanjing Road. Nanjing Lu is the main shopping street in Shanghai and truly has something for everyone, from Starbucks to the fanciest Ritz-Carlton I have ever seen. Ever on the lookout for Art Deco, I spotted some a block away, which I'll put in the next post.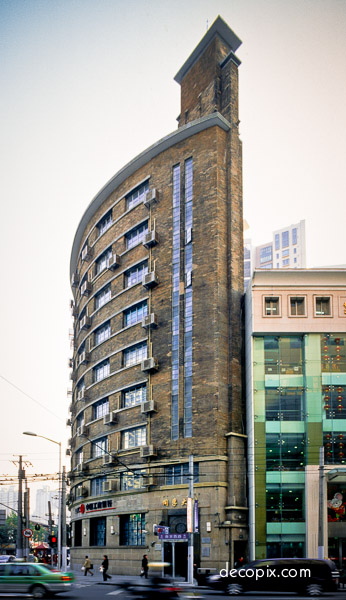 After downtown, the next largest concentration of Art Deco is in the French Concession. Of particular note here is the massive Grosvenor Mansions apartment complex, now the Jin Jiang Hotel. A lot of Shanghai's Art Deco is in need of repair, but you'd never know it, here.
Moving further into the city, I lost my sense of direction so I'll just point out there are dozens of Art Deco apartment buildings scattered throughout the city and and a handful of amazing Art Deco mansions.
I hope this brief overview gives you some idea of what Shanghai has to offer those interested in Art Deco architecture. To keep things from getting too long, I've saved a few things for part 2.