A lot of Shanghai's architectural treasure could rightly be called hidden treasure. Down an alley, behind a wall and, especially in the French Concession, behind trees.
Here are three discoveries I made walking the city. These might not be discoveries to a local, but they show what a foreigner can stumble upon in Shanghai's old neighborhoods.
One morning, Henry and I were walking in the French Concession and came to a huge moderne house. As usual, behind a tree and shrouded in wires. The place was for rent. The price was astronomical but we were shown around anyway.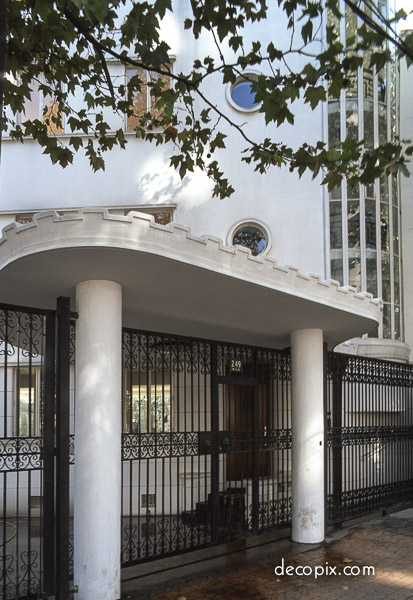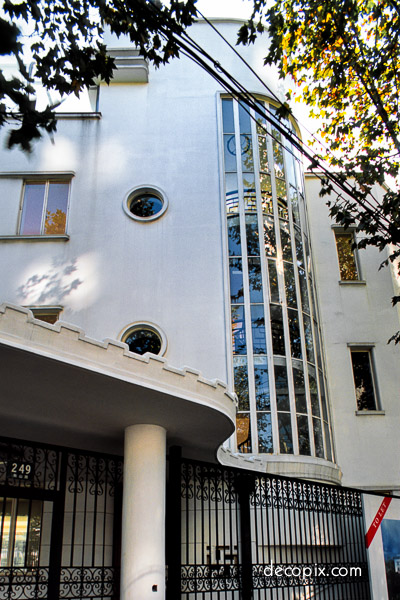 The inside was new and state of the art but it was interesting to see the enclosed top floor area and the rock garden in the yard.
Discovery #2 was also by chance. Along a section of Nanjing Lu, I saw some Deco buildings mixed in with the modern shopping areas. I wondered if there was more old stuff on the side streets.
I walked a block or two off Nanjing Road and spotted the top of a spectacular house. The place was behind a high wall but construction was underway and before long, the gate was open! This, it turns out, is the Pei family house, whose most well known member is architect I.M. Pei.
I had a feeling I wasn't entirely welcome and soon enough, one of the workers closed the gate, leaving me back on the street. But not before I got what you see here. (Note to camera tech folks: the pinkish highlights & cyan skies were caused by the Sigma DP1 camera I was using and its early generation Foveon sensor.)
Item #3 wasn't exactly hidden, but given the reception we got, it was off-limits. During Shanghai's pre-WWII years, there were places in the concessions that catered to foreigners. One such venue was the French Club, which featured a ballroom with a stunning Art Deco ceiling fixture.
Could something as fragile as a stained glass ceiling have survived in Shanghai? The answer was yes. The ballroom was intact, part of the Okura Garden Hotel. Not understanding Chinese, which had been a blessing in some situations was no help here as the management was Japanese. They asked us to leave. Now. Their English was flawless. Henry got into an argument with them and when it came to heated discourse, their Chinese was pretty good, too.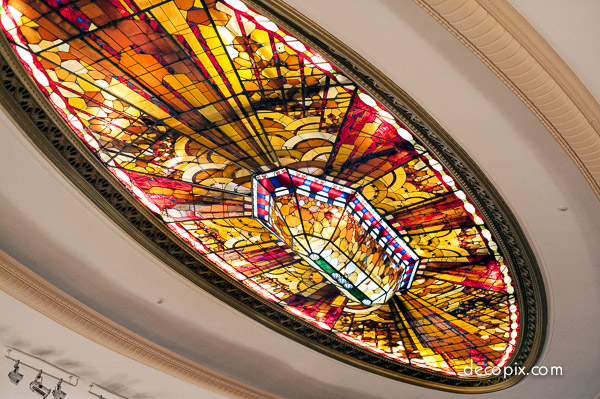 For those attending this year's World Congress who feel there is more to life than Art Deco (really?) I'll cover some other fun stuff in and around Shanghai in part 3.