[easyazon_image add_to_cart="default" align="left" asin="1477824790″ cloaking="default" height="160″ localization="default" locale="US" nofollow="default" new_window="default" src="http://ecx.images-amazon.com/images/I/61IjCPanYiL._SL160_.jpg" tag="decopix-20″ width="160″]did you read that review[/easyazon_image]
In 2004, after my involuntary exit from the photo industry, I had time on my hands. Almost without realizing it, I began writing reviews for Amazon. Somehow, these reviews catapulted me into the top tier of Amazon critics.
Well, not the very top. In the pantheon of Amazon reviewers, above those who describe movie plots on a frame by frame basis, there is an elite group of folks who scan Amazon, looking for products to review.
Collected here are the best of those reviews, of items large and small. Whether the reviewer has actually examined the item firsthand is an open question, but perhaps misses the point. Here you will find buying advice on underpants for squirrels, a "personal relaxation capsule", a hat that makes your cat appear to be a tiny unicorn and much more.
You might expect this type of merchandise to steal the show or at least defy being reviewed but not so. There's the $69,000 watch whose owner waited an extra day to get free shipping. A $369 Swiss Army knife that has more attachments than the Swiss army has members. I could go on but maybe it's better if I post a few photos.
Disclaimer: One of my reviews appears in the book. It's far from the best, but it was enough to score me a free copy. I took the book into work (a particularly joyless place) and had to take it home due to the disruptions caused by fits of laughter.
So, if you truly seek a gift for the person who thinks they have everything, they don't have this book. And for their sake, I hope they don't have all the items in it, either.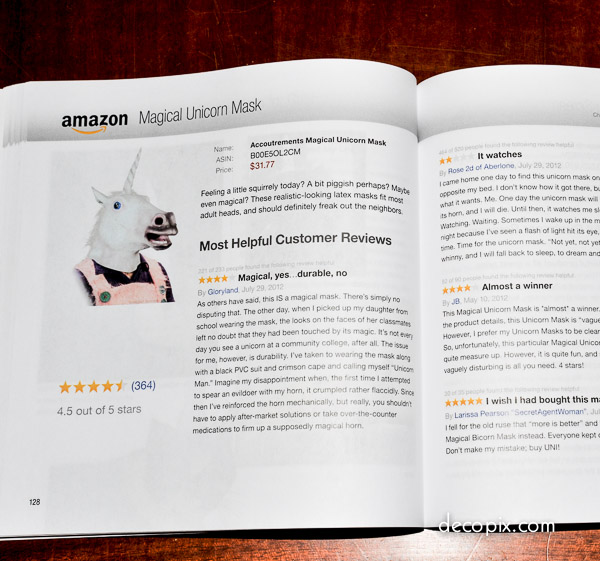 [easyazon_block add_to_cart="default" align="center" asin="1477824790″ cloaking="default" layout="top" localization="default" locale="US" nofollow="default" new_window="default" tag="decopix-20″]did you read that review[/easyazon_block]