While writing the post on Tokyo's Deco department stores, I realized that a lot of the city's Art Deco architecture is really tucked away. Here are two examples.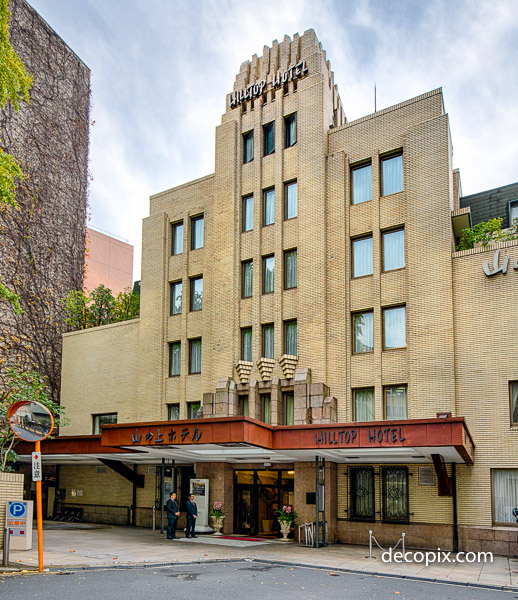 The Hilltop Hotel sits on Surugadai Hill in the Kanda district. It is so tucked away, I was still asking for directions when I was less than 1 minute from the front door.
The hotel was built in 1937 by philanthropist Keitaro Sato. The building was originally an "institute of a new life style in food, clothing and shelter." I wanted to know more, and found the following:
Keitaro Sato, who had long suffered gastric ailments, at the age of 57 began to chew his food thoroughly. This he did at the recommendation of Dr. Kenzo Futaki of Tokyo Imperial University (present-day Tokyo University). He soon recovered his health, and he thereafter devoted himself to promoting the public health. The fact that his beloved Japan was trying to overcome a crisis using force saddened him, and he passionately sought to persuade army acquaintances that "Eating quickly produces warlike and self-destructive people. Let's chew our food well."
Good advice to be sure. But war followed, and eventually the facility became housing for U.S. military personnel.
In 1954, the building reopened as the Hilltop Hotel, retaining many of it's original features, some in the Art Deco style. Today, the hotel is popular with writers, scholars and journalists and in a tip to it's former life as a health facility, the hotel circulates air freshened with negative ions throughout the rooms.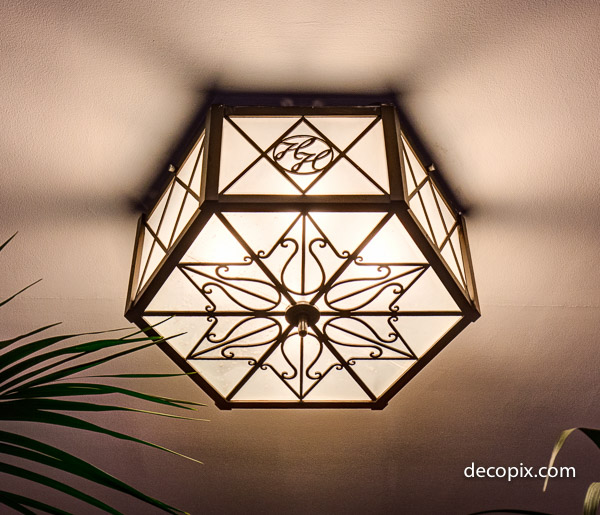 Incidentally, the hotel's tempura restaurant Yamanoue, has an excellent reputation.
Have you ever been shopping in an upscale neighborhood and suddenly wanted a corned beef sandwich? Perhaps not. But in Tokyo, all things are possible. Hiding in plain site on the always busy Ginza is the Lion Beer Hall, open for business since 1934.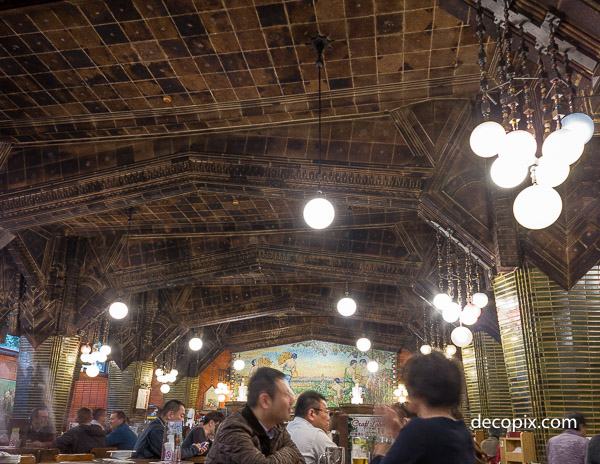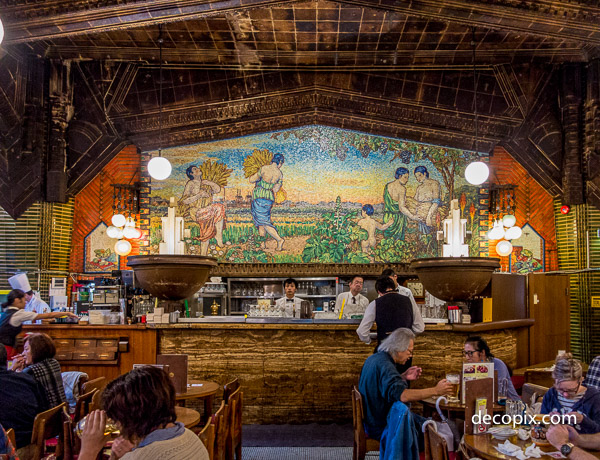 The work of architect Eizou Sugawara, the beer hall's design is described as Gothic Art Deco. This term is new to me, but I have to admit it hits the nail on the head, as does a cold Sapporo beer and some sausages, or some roast beef, or a crab salad, or….