At last year's World Congress on Art Deco, in Cleveland, I got to finish something that had bothered me for years. Decades, actually.
In the 1980s, I went to Cleveland to photograph a variety of things for a book and exhibit catalog for the Smithsonian. At the top of the to-do list was Severance Hall and the Rose Iron Works (where Lawson clock designer Paul Feher had worked, but that's a story for a separate post.)
Then there were the "if you get a chance" shots, including the Colony Theater.
Friends at the Theatre Historical Society told me not the miss the Colony, and it did not dissapoint. For starters, it was a John Eberson design (architect of the amazing and still extant Loew's Paradise in the Bronx and the unbelivable but demolished Paradise Theatre in Chicago.)
What made the Colony so interesting was its utterly unrestrained Streamline Moderne interior. The sort of thing S. Charles Lee did all over the west coast, but in Shaker Heights? What would the Shakers have thought of this stationary ocean liner in their midst?
The Colony's exterior gave no clue to what was inside. A modest Georgian facade, no doubt to show some respect for the surrounding area.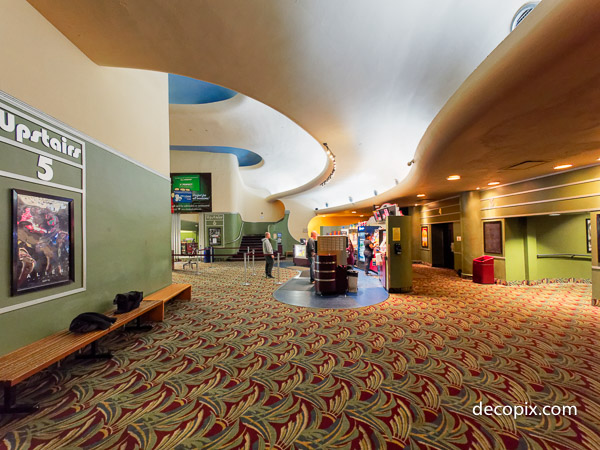 On to my story. I took photos of the Colony's interior and I remember–vaguely–seeing a large, transilluminated glass panel, a sandblasted design with tropical fish. What I can't remember is why I didn't take any photos of it.
And so, some 35 years later, I'm happy to report mission accomplished. To be brutally honest, I can't say the size of the piece or it's attractiveness are as impressive as my memory suggested, but it certainly makes a fine fit with the streamlined nautical theme.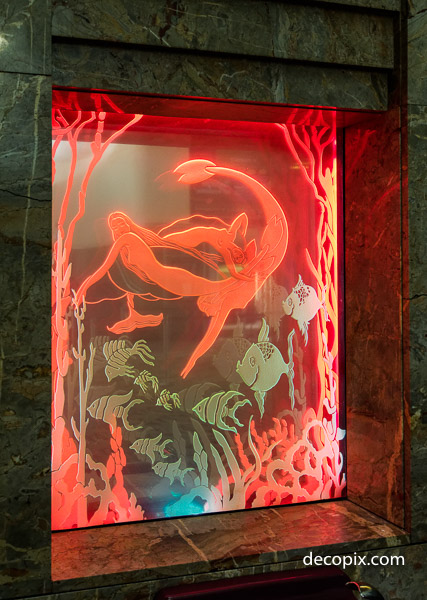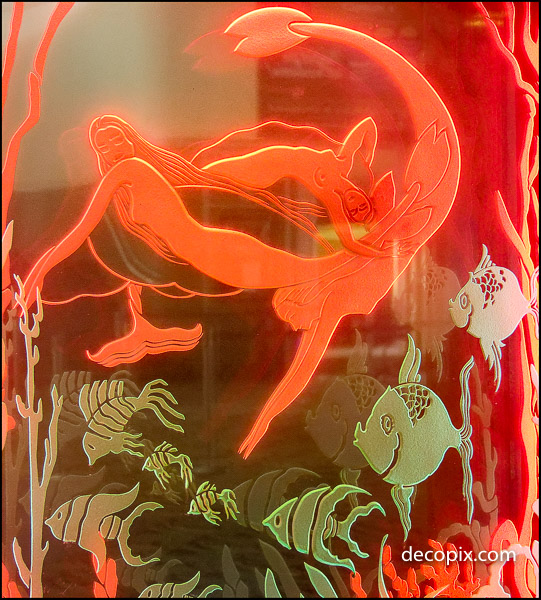 I'll close with an interesting bit of trivia. It appears that the inventor of the "edge lighting" we see above was none other than Robert V. Derrah, architect of the very ship-like Coca-Cola building in Los Angeles. What are the chances? See for yourself: